AquaStretch™ Fitness Benefits

Restores Flexibility lost due to over-training


Increases Wellness Motivation


Decrease Muscle Soreness/Tension


Increase Training Efficiency


Help Get "Loose" before competition


Improve Sports Performance


Faster Recovery from Minor Injuries
AND
Some patients have reported AquaStretch™ has helped them:


Drive Golf Balls 20-30 yards Farther


Run Half-Marathons Five Minutes Faster

Of course, your own personal results may vary but who knows what you may be able to accomplish!



Read More on The Effect of a Single AquaStretch™ Session on Lower Extremity Range of Motion




Further research on the Fitness Benefits of AquaStretch™ is currently being conducted by ATSU DPT Students - So Stay Tuned!!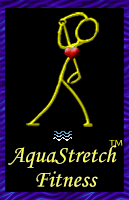 Copyright © 2012-2015 All Rights Reserved